The Heritage Insider news
Still waiting for a bill that repeals Obamacare.
The American Health Care Act, a vote on which was canceled on Friday by House Speaker Paul Ryan, fell short of repealing Obamacare because it left in place the provisions responsible for making health insurance more expensive. As Drew Gonshorowski writes:
"Obamacare caused premiums to rise for various reasons, chief among them being the vast new regulations the law imposed on insurance markets. A new analysis from Milliman backs this up. The study provided estimates of the average impact that various Obamacare regulations had on premiums. These estimates are reflected in the chart below."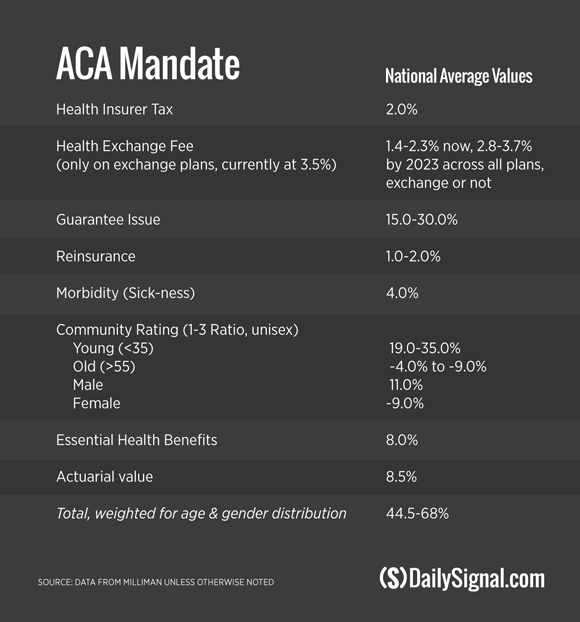 [The Daily Signal]
Edmund Haislmaier adds:
"Voters elected candidates who pledged to repeal Obamacare because they understood that pledge to mean, first and foremost, a commitment to undo the cost-increasing mandates and regulations that Obamacare imposed on their private health insurance.
"The best course now would be for House leadership to draft a new bill that takes as its starting point the repeal of those Obamacare provisions that dictate the benefits and design of private insurance plans, and which have driven up coverage costs.
"Doing that would be a case of good policymaking for good politics." [The Daily Signal]
Go to Wellesley and be protected from ideas.
"There is no doubt that the speakers in question impose on the liberty of students, staff, and faculty at Wellesley." So says a committee of six professors at Wellesley College who want to impose themselves onto students seeking to bring guest speakers to campus. In an email to fellow faculty, the professors—who form the Commission for Ethnicity, Race, and Equity at Wellesley—lament that Northwestern University Professor Laura Kipnis was allowed to speak on campus. Kipnis is a critic of various feminist orthodoxies, especially as they relate to higher education.
As the Foundation for Individual Rights in Education, which obtained a copy of the email and published it online, points out, the professors' call for vetting future speaker invitations according to "
standards of respect and rigor" "would, in itself, establish a campus orthodoxy and a climate in which any speaking invitation might be subject to prior review by a select few faculty." [Foundation for Individual Rights in Education]
The six professors who authored the email—Diego Arcineagas, Beth DeSombre, Brenna Greer, Soo Hong, Michael Jeffries, and Layli Maparyan—are failing at their job, part of which is to teach students how to engage intellectually with ideas. Unlike most people who fail at their jobs, however, these professors face almost no risk of losing their jobs for their failures.
Where did the campus safe space culture come from, anyway?
Mitch Pearlstein finds a clue in the work of Neil Gilbert, the Milton and Gertrude Chernin Professor of Social Welfare and Social Services at the University of California, Berkeley. Pearlstein sums up Gilbert's argument in his article "Institutionalized Discontent," (Society, August 2016) this way:
"'Over the last several decades federal regulations and funds have created an alternative bureaucracy within universities that is devoted not to the core academic mission of teaching and research, but to improving the social climate of university life.' The 'legitimacy and power' of this new bureaucracy, he writes, 'depend on heightening the perception that academic life involves a dangerous environment, from which students need protection.' This perceived need, he continues, has led to campaigns for 'safe spaces'; efforts to help students 'recognize micro aggressions'; educating and training them in 'sexual assault prevention'; and demanding faculty participation in 'sensitivity training.' Among other rote requirements.
"How big is this new bureaucracy? Neil reports that between 2000 and 2015, 'the number of full-time, ladder-rank teaching faculty at Berkeley increased by 1%, while the number of full-time staff providing student services and health care increased by more than 100%, at which point they outnumbered the teaching faculty by 13%.'" [Center of the American Experiment]